Welcome to episode 41, where Les Filles tackle the immortal works of Alexandre Dumas (père) known as the D'Artagnan Romances and the various cinematic adaptations thereof. Prepare your sword, monsieur, for we are about to duel! (Is it weird that books whose title includes the word "musketeer" are mostly associated with rapiers and epees and not, you know, muskets?)
Download Direct as an MP3
Subscribe in a Newsreader
Subscribe in iTunes!
Listen on Stitcher!
The Russian 1978 film and its sequels are musicals. They are an amazing part of my childhood and just looking at the production stills for the briefly mentioned 2013 reboot makes me sad.
Here's the theme song. The two non-musketeer characters seen briefly in the beginning are Captain de Tréville and King Louis. In that scene, their order is (left to right) Porthos, Athos, Aramis. During the actual song, the order (again, left to right) is Aramis, Athos, Porthos, and D'Artagnan.
Here's a link to the playlist that contains all 3 parts (1.5-hours long each) with English subtitles.
Charlie Sheen was a musketeer, can you believe it? Here's a still from the 1993 Disney version. (I'd link to the trailer, but it was on VHS. VHS, you guys, remember those?)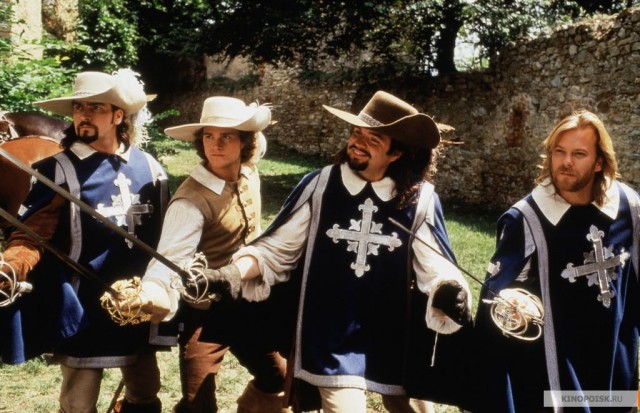 2001's The Musketeers renamed Constance to Francesca. For what reason? That is a question that applies to that film as a whole.
None of the above quite compare to the crazy spectacle of the 2011 The Three Musketeers (3D!). Flame-thrower armed flying ships, how did we not get a sequel?
BBC's The Musketeers dispenses with the plot and keeps the adventure. Good for them!
Having spent approximately an hour in my Tumblr likes, I cannot find a good gif of D'Artagnan's "judging you" face, but it's from season 2 episode 9 if you're looking forward to seeing it. Have some gifs of Porthos being Porthos instead.